Game of the day:

When the dead return for vengeance...
Top games:
Hexalot
Hexalot file size is 9 MB. The game is free to download and try. Play this game for free to decide if you like it. If you like it, you can safely and securely buy the full version of Hexalot game online for $6.99.
Hexalot game is published by Bigfish.
Last updated on Mar 27, 2003.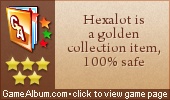 Experience ever-changing levels with thousands of solutions! You can even save your games. Enjoy enchanting music and beautiful medieval inspired graphics for hours of puzzle fun. Hurry up, before King Arthur's realm is lost forever!
A mind-bending puzzle game.
Captivating gameplay.
Guide your knights across bridges.
Games related and similar to Hexalot include
arcade
games,
build
games, all of them and Hexalot itself are available for download from The Game Album.