Game of the day:
Roman heroes set out to find the Rose of Amor.
Top games:
Spyde Solitaire
Spyde Solitaire file size is 9 MB. The game is free to download and try. Play this game for free to decide if you like it. If you like it, you can safely and securely buy the full version of Spyde Solitaire game online for $6.99.
Spyde Solitaire game is published by Bigfish.
Last updated on Mar 27, 2003.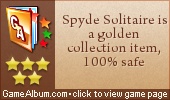 Spyde Solitaire updates the classic spider solitaire game with dynamic visuals, multiple play modes, and a clever soundtrack. The main game mode progresses in difficulty as you conquer the map and prove your mastery. You can even play a game based on the options that you enjoy most. The drawn character cards and period musical flourishes accentuate the playing experience of Spyde Solitaire.
Powerful bonus cards.
30 challenging levels.
3 modes to play.
Games related and similar to Spyde Solitaire include games of
arcade
,
card
,
great
-related games, all of them and Spyde Solitaire itself are available for download from The Game Album.