Game of the day:
A Mysterious Match-3 Adventure!
Top games:
Grim Tales: Trace in Time
Grim Tales: Trace in Time file size is 443 MB. The game is free to download and try. Play this game for free to decide if you like it. If you like it, you can safely and securely buy the full version of Grim Tales: Trace in Time game online for $6.99.
Grim Tales: Trace in Time game is published by Bigfish.
Last updated on Apr 25, 2021.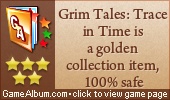 Elephant Games returns with the 20th riveting installment of the Grim Tales series!
Your heart has stopped! When you wake up after an emergency heart transplant, you quickly find that your health scare was no accident. A dangerous group is going after people who interfere with time. Nothing will stand in their way, including innocent lives! Can you travel through time to stop them from causing irreparable damage and escape with your life intact? Find out if the Gray family is up to the task in this gripping Hidden-Object Puzzle adventure!
Face a shadow organization bent on murder!
Time-twisting narrative
Has time finally caught up to Anna Gray?
Games related and similar to Grim Tales: Trace in Time include
arcade
, all of them and Grim Tales: Trace in Time itself are available for download from The Game Album.